Over the last year, victims and survivors of child sexual abuse have told the National Centre for Action on Child Sexual Abuse (the National Centre) more about what they need from services. They need to be listened to, respected and supported to meet their diverse needs and recovery goals. These insights align to what victims and survivors consistently told the Royal Commission into Institutional Responses to Child Sexual Abuse (Royal Commission). That is, that services need to be trauma-informed, person-centred and culturally safe. They also need to be as accessible and flexible as they can be to best meet the unique needs of each victim and survivor when and where the person reaches out for support. 
The Australian Child Maltreatment Study found that child maltreatment, including child sexual abuse, often affects physical and mental health across the life span and is strongly associated with mental health problems in Australia.1
The National Centre has heard from practitioners and services who are keen to build their knowledge and skills to better support victims and survivors. It is critical to build the capability of professionals and organisations to embed trauma-informed and trauma-specific approaches to support victims and survivors to heal and recover. A rapid workforce review commissioned in 2022 by the National Centre and undertaken by Nous Group, in collaboration with the Blue Knot Foundation and the Australian Childhood Foundation, provides some insights and early thinking on the workforce landscape and what might be required.
What knowledge is needed by the workforce who respond to victims and survivors of child sexual abuse?
The knowledge needed for effective practice and responses to people with experiences of child sexual abuse, complex trauma and harmful sexual behaviour is often fragmented, difficult to access, confusing and constantly evolving. Many victims and survivors are readily triggered by responses which are not sensitive to their prior trauma. When they do reach out and seek help, they can have negative experiences with services. As such, it is critical that all practitioners and services working with victims and survivors are trauma-informed and culturally safe. Experiencing additional trauma in engaging with support compounds issues of safety and trust and creates further barriers for victims and survivors to remain linked in with services. 
Workforces need to be able to keep up with evolving knowledge to better meet the diverse and distinct needs of children and young people who have experienced child sexual abuse, engaged in harmful sexual behaviour and adults who have experienced child sexual abuse. While the core principles of being trauma-informed, survivor-centred and culturally safe are fundamental, the ways in which support is offered varies for people of different ages and stages of healing. For example, a trauma-informed approach must recognise each individual's developmental needs, safety concerns and issues around disclosure, confidentiality and mandatory reporting. Furthermore, for children it is important to understand the impacts of complex trauma on attachment, emotional regulation, development and healthy boundaries. While these are also relevant for adult victims and survivors, it is also important to focus on safety, fostering skills to self-regulate and draw on self-integrity while working through issues of shame.2
Practitioners and services need to be inclusive and respond holistically to each person, including being able to identify and understand additional and different needs of key community groups such as First Nations peoples, people living with a disability, culturally and linguistically diverse people and people within LGBTQIA+ communities. The following diagram represents a way to understand the common needs of individual victims and survivors.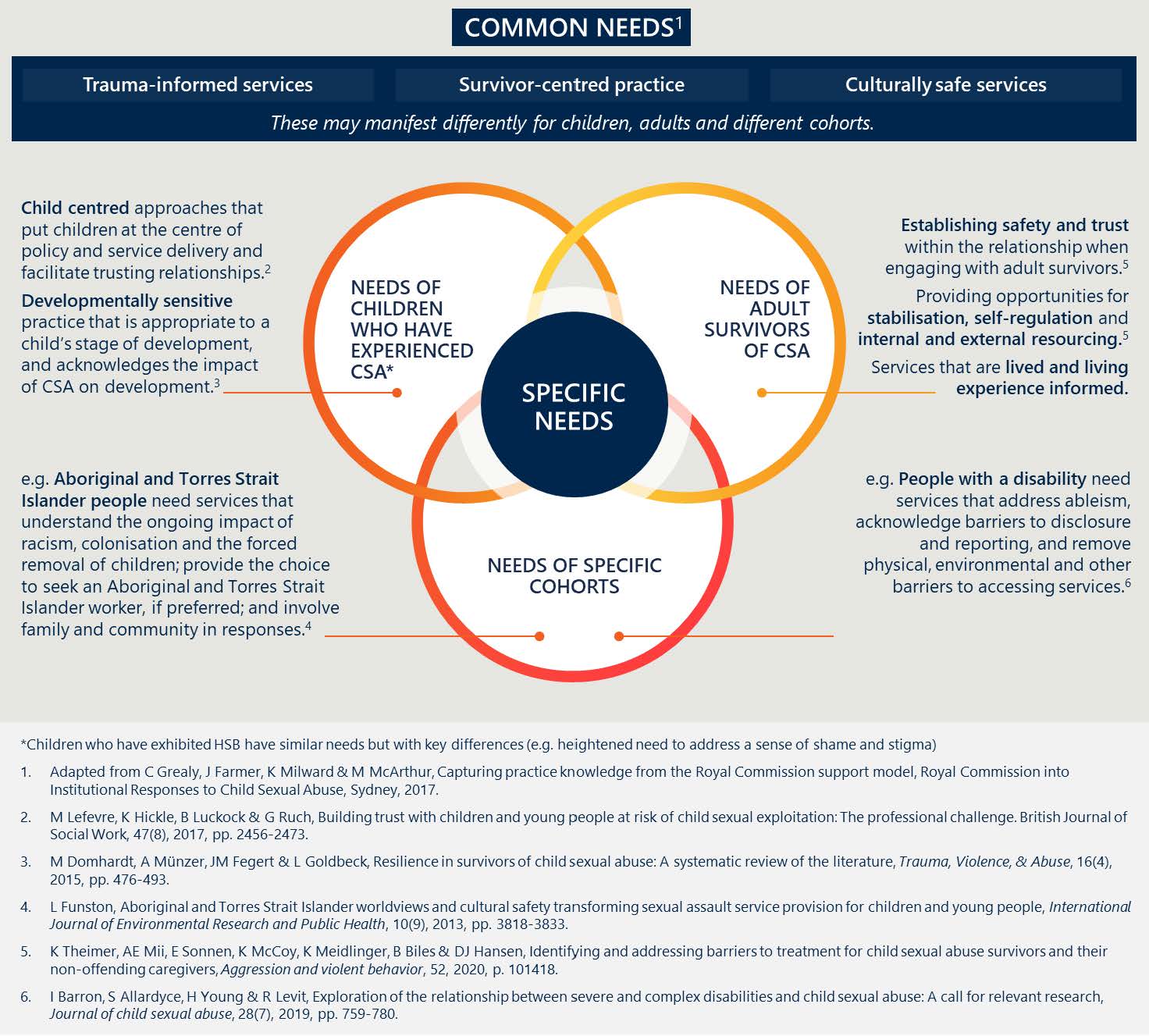 Practitioners must also reflect and be responsive to the different individuals and families needing support and the different contexts in which they are working. For example, specialist knowledge is necessary for practitioners working with children in out-of-home care; people who have experienced betrayal trauma; dynamics of intrafamilial sexual abuse and the impact of victimisation that occurs through online abuse and exploitation. 
How do we build the capability of the workforce?
Our efforts to build workforce capability must cater to large and varied workforces who are employed in a diverse range of roles that require varying levels of qualification (see the National Centre's Knowledge Summary – Who is the workforce who respond to victims and survivors of child sexual abuse in Australia?).
Preliminary scoping of the workforce landscape suggests there is utility in developing a framework that outlines the core skills or common capabilities needed to respond to the varying needs of different cohorts in the workforce who respond to victims and survivors of child sexual abuse. Early mapping of curricula and on a limited number of case studies relating to child sexual abuse, harmful sexual behaviour, complex trauma and trauma-informed practice suggest the following key markers of workforce capability: 
There is minimal inclusion of relevant curricula in a range of relevant qualifications within higher education and relevant VET qualifications. 

Newly qualified workers are not 'work ready' to practice in the field of child sexual abuse. This was emphasised through the National Centre's Learning and Development Survey, which reported that only 9% of workers felt equipped to respond to the above areas through their programs of formal study. 

Inservice training or post-qualifying professional development in child sexual abuse, complex trauma and trauma-informed practice are currently delivered by a small number of not-for-profit organisations that are nationally recognised leaders in the field. 

Some jurisdictions have invested in large scale workforce development programs for specific workforces (e.g., education, child protection and youth justice), with some sustained over multiple years. However, the focus of these has not been on child sexual abuse specifically but more generally about trauma-informed practice. 
Victims and survivors have stressed the importance of systemic change to build 'no wrong door' responses that are matched to their diverse and unique needs. This includes targeted strategies which consider organisational and service system contexts, alongside initiatives to develop the skill and knowledge base of individual practitioners and organisational- and program-level cultures that are genuinely congruent with a trauma-informed approach. Victims and survivors require services which offer them an integrated client journey that best responds to and meets the range of needs with which they present.  
Reflections from the National Centre
Workforces must be able to meet the core needs of victims and survivors in a way that is trauma-informed, survivor-centred and culturally safe. At a minimum, service responses need to cause no further harm as a result of re-traumatisation, which often leads to ongoing disengagement from the support and services they require. To meaningfully respond to the needs of victims and survivors, there is a need to think and act broadly to equip the range of workforces and organisations that victims and survivors connect with.  
Find out more about the National Centre's efforts to lead, advocate for and partner with others to build the capability (see the National Centre's Learning and Professional Development Plan) of the child sexual abuse workforce. 
References
1 Scott, JG et al, 2023. The association between child maltreatment and mental disorders in the Australian Child Maltreatment Study. Med J Aust. 208 (6).
2 Ford JD and Courtois CA. Defining and Understanding Complex Trauma and Complex Traumatic Stress Disorders, Treating Complex Traumatic Stress Disorders, 2009, 17